Hanging plants have their own importance as they are the most beautiful way to add greenery to any space in your home. There are a number of ways to create a hanging planter that add color and charm to both the container and the plant space. Interestingly, they are easy to care for and water, and they do not require any landscape, so they are suitable for tenants as well as homeowners.
In this guide, I will discuss a few amazing indoor and outdoor hanging plants, so here you can find appropriate information for your favorite hanging plants.
Popular Hanging Plants
1. Blue Bacopa
Bacopa is one of the hanging plants that grow in containers that allow for the constant moisture that is needed for the flowering plants. For best growth, you need to keep hanging bacopa in a place where they get a lot of afternoon shade. Give 8 to 10 inches of space to grow this plant. Bees are attracted to this hanging basket plant due to its flower color and fragrance. They do not need much water.
2. Verbena
This plant is known for its stress-free essential oil. Verbena is an amazing hanging plant that comes in over 250 different kinds of varieties. This butterfly-attractive plant needs full sunlight for 8 to 10 hours per day and well-drained soil. Consider planting a verbena flower plant if you want a long-lasting bloom that will work even on the hottest summer days. If your area has high humidity in summer, choose perennial verbena for better performance in summer. While verbena flowers are drought resistant, regular watering of one inch or more every week improves the bloom. You need to give liquid fertilizer regularly to grow quickly.
3. Strawberries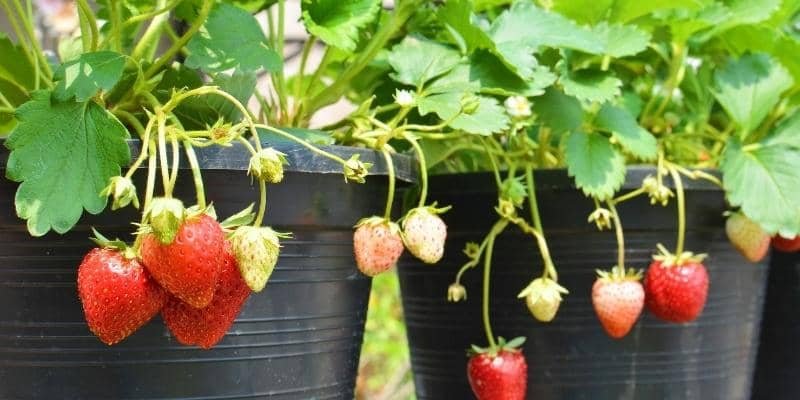 This plant is a native of Europe. Strawberries are closely related to roses, so the flowers are very beautiful with a mild, pleasant smell, and surely you get the benefit of the fruit. It contains many nutrients and vitamins, so they help to improve your physical and mental health. Besides this, there are also other benefits to this hanging plant. For example, if you serve it daily, you can get relief from skin ailments as it helps to reduce dark spots. Strawberries contain proteins that cause allergic symptoms.
4. Lobelia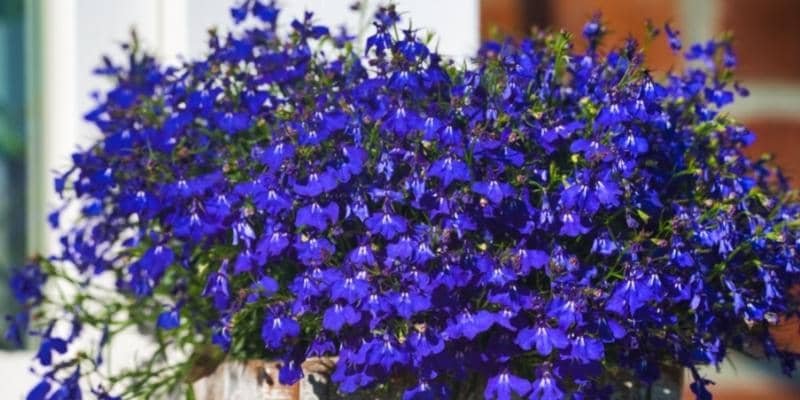 It is a native of South America. Lobelia comes in incredibly intense blue colors, which is a bit rare in the plant world. You can also grow them in cool climates and shady environments. It is considered a poisonous plant, so you cannot eat it. The maximum height of this plant is around 12 inches. You need to give them water twice a week and most soil. This plant takes 10 to 21 days to germinate seeds.
5. Black-Eyed Susan Vine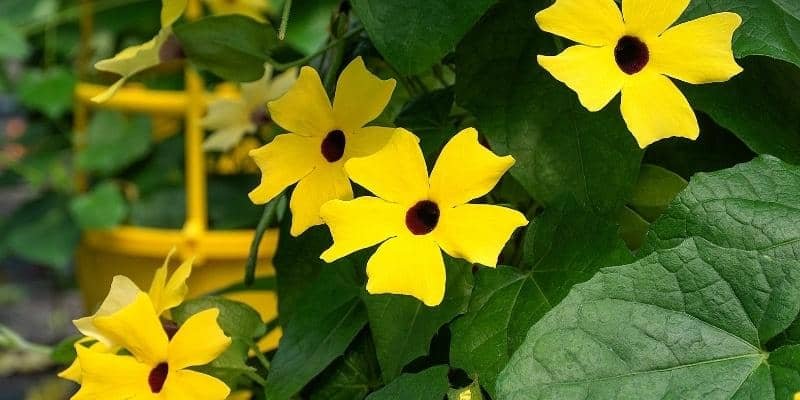 Don't let the variety of vines throw you away-while black-eyed Susans grow quickly and aggressively, they are very easy to maintain and produce beautiful flowers. The height of this plant is approximately 8 feet in containers. It is a non-toxic plant, so you do not need to worry about your pets and children. After growing, you need to water them 2 to 3 times a week, but a newly planted tree does not require too much water, so they need water once a week. From April to June is the best suitable time period for planting this hanging plant.
6. Petunia
Petunias are perennials in the 9 to 12 zones, but numerous modern hybrids are now grown annually in all USDA hardiness zones. Their huge flowers make this plant ideal for hanging baskets. They need about 5 to 6 hours of full sunlight to grow quickly. It lives for 2 to 3 years in warmer weather. This plant will be properly grown in 6 to 8 weeks and start to produce flowers. The height of this hanging plant is at least 6 to 8 inches. It is a pet-friendly plant.
7. String of Pearls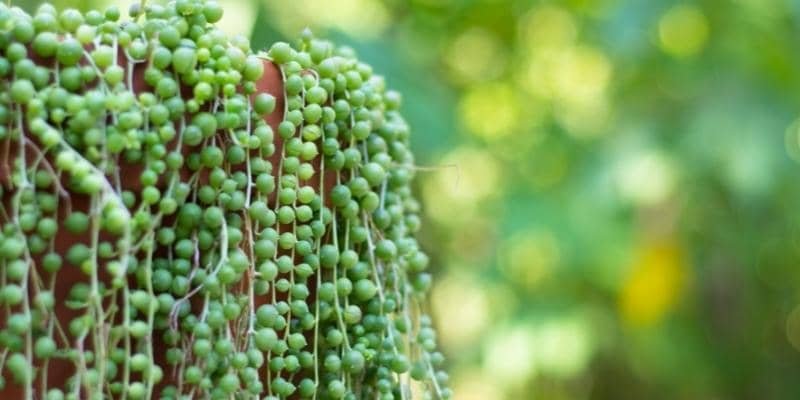 We sell this hanging piece for its sleek bead-like look. The height of this plant is 1 to 2 feet when it reaches mature size. Neutral to acidic soil is the most suitable for growing this plant. This plant blooms in the summer season. It is a native plant of Africa. It symbolizes purity, loyalty, and friendship. It is very easy to maintain an indoor space. It grows up to an inch per month. It requires fertilizer once a month during the summer, but they do not need any kind of fertilizer in wet weather. It is considered as poisonous for humans and animals.
8. Calibrachoa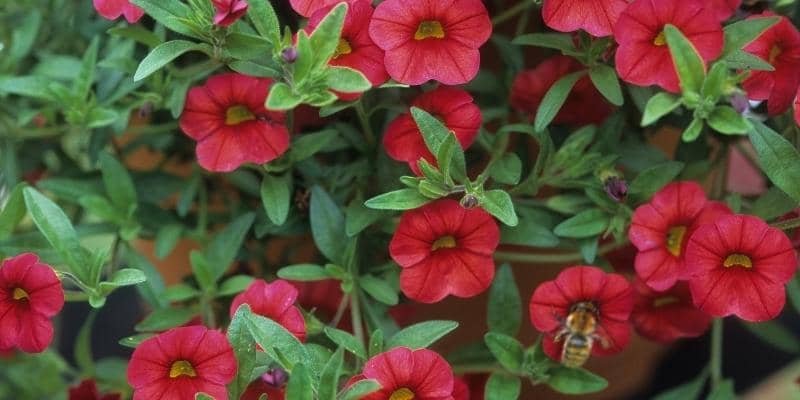 Commonly known as the Million Bells, the beautiful pink plant is a container garden go-to for its fast-growing flowers and variety of colors. Plant Calibrachoa in well-watered soil outside in late spring and you can enjoy the foliage until autumn. Fertilize them regularly for continuous blooming. The habit of this plant is sprawling. The height of this hanging plant is around 6 to 12 inches. It requires acidic soil with a 5 to 6.5 pH level. Placing your hanging basket in a sunny location is best for growing this plant. 20-10-20 fertilizer is the best for this hanging basket plant. It can withstand temperatures ranging from 28 to 30 degrees Celsius. Calibrachoa is a non-poisonous plant for dogs. Late May is the best time for growing this plant.
9. Sweet Alyssum
How- sweet this plant really is both heat and drought resistant, white blooms can handle a handful of regions in the U.S., especially mild climates. Bees and butterflies are attracted by its enchanting fragrance. It needs at least 6 hours or full sun for growing better, but it can also tolerate partial shade. They take around 9 to 10 weeks to produce flower after growing seeds. The fragrance of this plant is a very strong, so it attracts bees from very large distance. Flowers of this plant come from June to October.
10. Pansies
Self-seeding, low-maintenance pansies need cold weather, i.e., late autumn and early spring. Blooms also attract attention for their exquisite face-like petals. Both the leaves and flowers of pansies contain different vitamins, such as vitamin A and vitamin C. Pansies are not affected by insects or diseases. Pansies perform best under 6 hours of direct sunlight. Direct morning sun is the best choice for growing this hanging basket plant. They need water twice a day during very warm weather. Pansies can survive up to 25 degrees Fahrenheit. If you have enough light in your indoor space, then you can grow it on your indoor side.
Hanging basket plants are very easy to care for. Everyone can plant them because they do not require any kind of space for growing. Above all, are the hanging basket plants that also help to enhance the beauty of your home. Moreover, it also has many other essential benefits.
Hope, you liked reading the guide. If you think we have missed something or have any suggestion, please drop your valuable opinion in the comment section below.
If you are searching fresh and live houseplants online then checkout our extensive collection of amazing indoor and outdoor houseplants.