Florida flowers Garden, located in Largo, Florida, is a 182-acre botanical garden. The park exhibits flora, animals, and natural resources in inspiring surroundings that promote environmentally friendly activities.
The Florida's favorable subtropical climate come a varied range of gorgeous native flora that would look lovely in garden. Because native plants grow naturally in region, which will survive in the Florida heat, humidity, and the odd overnight cold.
This Florida flowers Garden include a Butterfly Garden, Cactus/Succulent Garden, Cottage Garden, Herb Garden, Jazz Garden, Tropical Fruit Garden, Tropical Courtyard, The Vinery, and other gardens.
Best Florida Flowers Grow In the Garden
Winters in Florida are pleasant and frequently frost-free. Certain plants may bloom all year lighting yard with beautiful reds, blues, and pinks even on the coldest nights.
This best Florida flowers, plants, and shrubs to grow in Florida are covered in this article. Along with photos of Florida flowers, plant descriptions can help to choose the best blooms for gardening.
These 13 florida  flowers that bloom all year in garden can brighten and beautify from spring to winter!
1. Periwinkle (Vinca Minor)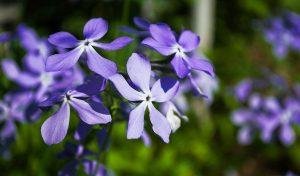 These Periwinkles are adorable blue flowered plant grows well as a creeping vine and is often seen running along slopes. It is also known as creeping vinca.
This plant is a great ground cover and a prolific spreader. Periwinkle is commonly used to choke out weeds and blooms best in partial shade.
Periwinkle plants are perfect for perennial ground cover purple blooms in Florida. The mat-forming foliage grows well in full light, and the violet-colored blooms bloom throughout summer. Periwinkles are ideal flowers for growing in all zones in Florida.
Plant Overview
Common Names: Vinca minor, creeping myrtle, periwinkle, dwarf periwinkle
Botanical Name: Vinca minor
Family: Apocynaceae/dogbane
Plant Type: Evergreen perennial
Mature Size: 3-6 in. tall with trailing vines up to 18 in. long
Bloom Time: Spring, summer
Flower Color: Blue, lavender, purple, white
2. Blue daze (Evolvulus glomeratus)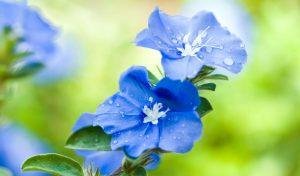 The Blue Daze is a non-vining plant variety that blooms in the fall, spring, and summer. This blue flower has ruffled petals and a little white center eye. These flowers grow to be about an inch in size.
This plant grows in heat and humidity, making it an ideal plant for Floridians. It is an annual blooms in summer to autumn. It loves full light and grows in zones 9-11.
The Blue daze plant is a flowering ground cover plant that thrives in Florida's warm climate. Blue daze blooms all year and produces beautiful blue-purple flowers. Regular rainfall is enough to keep the drought-tolerant plant growing.
Plant Overview
Common Name: Dwarf morning glory, Brazilian dwarf morning glory, evolvulus
Botanical Name: Evolvulus glomeratus
Family: Convolvulaceae
Plant Type: Perennial, annual
Mature Size: 9–24 in. tall, 2–3 ft. wide
Bloom Time: Summer, fall
Flower Color: Blue
3. Bougainvillea (Bougainvillea spp.)
Bougainvillea offers green foliage year-round and bright blooms in summer. This plant is a showy flowering produces masses of vibrantly colored flowers bloom for most of the year.
Growing bougainvillea in gardens requires some effort, but many think that these tropical and subtropical woody vines are worth it.
They will develop trios of small white flowers with various colors, including pink, purple, orange, white, red, and yellow shades. The Bougainvillea plant is an ideal flowering shrub for the Florida climate where humidity and long hours of sunshine keep the evergreen foliage lush and the flowers bright and gorgeous.
Plant Overview
Botanical name: Bougainvillea
Common name: Bougainvillea, lesser bougainvillea, paper flower
Family: Nyctaginaceae
Plant type: Perennial shrub
Mature size: 15–40 ft. tall, 15–40 ft. wide (outdoors); 2–6 ft. tall, 1–3 ft. wide (indoors)
Bloom time: Spring, summer, fall
Flower color: Pink, purple, red, yellow
4. Salvia (Salvia spp.)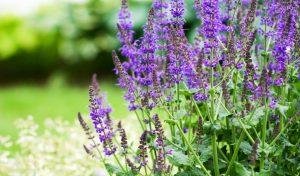 Salvia is a flowering herbaceous sensitive perennial native to Florida. This low-maintenance plant, also known as blood sage, has crimson red flowers and heart-shaped leaves.
This plant has several distinct types, which means it comes in various of hues, including white, red, purple, blue, and pink.
The flowers are deeply cupped, tubular, and have long petals. These stunning blue-flowered blooms have flower spikes that arise from a bush of lush green leaves. It thrives in even the most intense heat, but it does need much watering.
Plant Overview
Botanical Name: Salvia leucantha
Common Name: Mexican bush sage
Family: Lamiaceae
Plant Type: Perennial
Mature Size: 4 feet tall, 3 feet wide
Bloom Time: Late Summer
Flower Color: Purple, white, blue
5. Gerbera daisies (Gerbera jamesonii)
Gerbera daisies are eye-catching beautiful flowers that bloom virtually all year. They are colorful, with vibrant shades of white, pink, orange, gold, and yellow.
Daisy species with large rosette flowers are perennials. The flowers require full light and soil that drains well. They benefit from noon shade when temperature is high.
Plant these daisies in flower beds, along borders, or in patio pots. These Gerbera daisies plants bloom profusely in the fall and summer, but in southern Florida's mild temperatures, they may bloom all year. They prefer damp but well-draining soil and require little care.
Plant Overview
Common Name: Gerbera daisy, Transvaal daisy
Botanical Name: Gerbera jamesonii
Family: Asteraceae
Plant Type: Herbaceous, perennial
Mature Size: 10–18 in. tall, 9–12 in. wide
Bloom Time: Summer, fall
Flower Color: Red, yellow, orange, pink, white
6. Pentas (Pentas spp.)
The Pentas plants, also known as Egyptian star clusters, are shrubs with clusters of small, star-shaped flowers in red, pink, white, purple, or lavender.
There are several types of the Pentas plant, which grows as a perennial in warm areas. These plants are in wide colors and ideal for any gardener attracting butterflies and hummingbirds.
Each flower of this tropical plant has five pointed petals. Pentas flowers thrive in Florida's climate, preferring humidity, heat, and sun. Plant in full sun in mixed beds, along borders, or in large groups. This low-maintenance perennial Florida flower, known as pentas, thrives in full sun.
Plant Overview
Botanical Name: Pentas lanceolata
Common Name: Egyptian Star Cluster
Family: Rubiaceae
Plant Type: Perennial
Mature Size: 24–36 inches
Bloom Time: Summer
Flower Color: Red, pink, lavender, or white
7. Lantana (Lantana spp.)
Lantana is a beautiful, vibrant flower that is native to Florida. This Lantana plant blooms all year long, gracing Florida gardens with flowers in pink, yellow, red, lavender, and creamy white.
There are various types with colors like purple, lavender, orange, pink, gold, yellow, and white. They are known for attracting bees, butterflies, and hummingbirds.
They grow in tropical climes, so the warmest and most humid areas of Florida should be perfect. It requires plenty of sunlight and well-drained soil to grow, and when it takes off.
Plant Overview
Common Names: Lantana, shrub verbena
Botanical Name: Lantana camara
Family: Verbenaceae
Plant Type: Perennial in zones 9-11; otherwise annual
Mature Size: 6 ft. high and wide
Bloom Time: Year-round in frost-free climates
Flower Color: Mix of red, orange, yellow, blue, white, pink
8. Blanket Flower (Gaillardia)
The Blanket flower grows in mounds of leaves and blossoms and makes a great ground cover. They have different colored blooms; the flowers are colored in red, yellow, or orange.
They can grow anywhere because they can tolerate heat, sandy soils, and high salt levels. It grows in a spreading mound that can serve as a ground cover.
They have blooms in bright summer colors such as orange, yellow, red, and reddish purple. In the summer, the blanket flower is a sun-loving plant with patterned or solid yellow, orange, or red flowers.
Plant Overview
Common Names: Gallardia, blanket flower
Botanical Name: Gaillardia x Grandiflora
Family: Asteraceae
Plant Type: Herbaceous perennial
Mature Size: 24 – 36 in. tall; 12- to 24-in. spread
Bloom Time: Repeat bloomer, summer through fall
Flower Color: Various shades of red, yellow, orange, or peach
9. Coreopsis (Coreopsis spp.)
Coreopsis is also known as tickseed and pot of gold. It has pink, orange, red, and yellow blooms. This drought-tolerant, low-maintenance plant is ideal for borders or as a filler.
These plants can be white, pink, red, orange, or bicolor masses of bright yellow flowers. This is a simple plant that thrives in sunny mixed beds, borders, or containers.
Coreopsis is Florida's official wildflower. Plants in the coreopsis genus grow slowly and should be planted in the spring after all frost threat has passed. Plantings bloom in the early summer and continue to bloom into the fall, but perennials bloom the second year after planting.
Plant Overview
Common Name: Coreopsis, tickseed, calliopsis
Botanical Name: Coreopsis spp.
Family: Asteraceae
Plant Type: Perennial, annual
Mature Size: 2–4 ft. tall, 1-2 ft. wide (varies by species)
Bloom Time: Summer, fall
Flower Color: Red, orange, yellow, pink, white
10. Firespike (Odontonema cuspidatum)
The Firespike plant has long red showy flowers that bloom all year. This is a drought-tolerant plant may be found in Florida. This is a perennial shrub that looks well at garden beds.
They have a green with strong ribbing and a durable look. It has beautiful leaves even when not in flower, gardeners plant together as a background for plants.
Firespike shrubs are best planted in the spring since they begin flowering in late summer and continue to bloom far into the winter if not damaged by frost. Its nectar attracts hummingbirds and butterflies, making it ideal for pollinator gardens.
Plant Overview
Botanical Name: Odontonema strictum
Common Name: Crocodile fern
Family: Acanthaceae
Plant Type: Houseplant or perennial
Mature Size: 2 to 5 feet tall and wide
Bloom Time: Late summer to early fall
Flower Color: Red
11. Begonia (Begonia spp.)
The Begonia is a genus of perennial flowering plants in the family Begoniaceae. They are native to subtropical and tropical climates.
In cooler climates, they are cultivated outside in summer for colorful flowers. They grow best in light, fertile, well-drained soil and will not survive when waterlogged.
Because of their showy flowers of white, pink, scarlet, or yellow color and often attractively marked leaves, many species and innumerable hybrids and cultivars are cultivated. They are most popular of cultivated plants, indoors or outdoors. The lovely plants are grown for both their leaf forms and their blooms.
Plant Overview
Botanical Name: Begonia spp.
Common Name: Begonia,
Family: Begoniaceae
Plant Type: Herbaceous perennial
Mature Size: 6 to 12 inches, 6 to 12 inches
Bloom Time: Late spring, early summer
Flower Color: Orange, Pink, White, Yellow
12. Hibiscus (Hibiscus spp.)
The Hibiscus flowers are floral bushes that grow as evergreen perennials. The blooms grow as perennials in South Florida and bloom all year.
Hibiscus dies back in the cold in North Florida, but grows again the next year. These Flowers grow for a long time, and their huge, showy pastel-colored flowers are a treat in any summer garden.
These flowers can be rich red, pink, white, or have patterns like a raspberry ripple. The plant has a good tolerance for moist to wet soil, but mold can develop if it is not let to dry out on occasion. This Hibiscus will bloom in summer, exhibiting attractive flowers with four to five petals and a variety of hues.
Plant Overview
Common Name: Hibiscus
Botanical Name: Hibiscus spp.
Family: Malvaceae
Plant Type: Annual and perennial herbaceous plants
Mature Size: 3-10 ft. tall and 2-8 ft. wide
Bloom Time: Summer, fall, and year-round in tropical climes
Flower Color: Various, including white, red, pink, yellow, orange
13. Ixora (Ixora spp.)
The Ixora is a well-known flower in South Florida. Ixora, often known as 'flame of the woods,' blooms all year in Florida, and the long-lasting blooms can last up to eight weeks.
It has glossy dark green leaves and clusters of red, orange, or pink flowers. These flowers thrive as floral hedges, evergreen privacy screens, or border plants.
The Ixora ever-blooming shrub thrives in South and Central Florida, but not along the shore. They can also produce purple or black fruits. Ixora plants will bloom as long as the temperature stays over fifty degrees.
Plant Overview
Botanical Name: Ixora coccinea
Common Name: Ixora, flame of the woods, iron tree, jungle flame, West Indian jasmine
Family: Rubiaceae
Plant Type: Broadleaf evergreen
Mature Size: 4-6 ft. tall, 3-5 ft. wide
Bloom Time: Year-round
Flower Color: Red, pink, orange
Hope you enjoyed reading the Best Florida Flowers Grow in the Garden. If you think we missed something or have a suggestion, please leave it in the comments section below.
If you are searching fresh and live houseplants online then checkout our extensive collection of amazing indoor and outdoor houseplants.