Not only are these white flower plants easy to grow in India, but some of them offering the perfect blend of beauty and fragrance. Different flowers are the real gifts of nature due to their colors and textures. Amazing white flowers symbolize purity, innocence and give a contrasting accent to colorful flowers. White flower plants have many benefits, including enhancing the beauty of a garden by design.
The following list shows white flower plants that grow in India. Some of them are popular in every region of India, while some are rare to see.
Popular White Flower Plants
1. White Bougainvillea
The waxy flowers of bougainvillea are surrounded by bracts that are often confused with petals. Growing in clusters, its flower production is continuous throughout the year. The height of this flower plant is around 1 to 12 meter. This white flower plant is easy to grow with low maintenance. You need to put fertilizer once in a month during summer season. It has amazing benefits.
2. White Hibiscus
Hibiscus' trumpet-shaped flowers come in a variety of colors. In all, this white flowering plant is considered very sacred. It is also a symbol of attractiveness and feminine energy. White Hibiscus plant prefers a temperature of between 60 and 90 fern heat. Interestingly, it has been used for medicinal purposes since ancient times. They need full sunlight to grow well. You can also make tea, jams, and salads from white hibiscus flowering plants.
3. White Water Lily

White Water Lily plant is also known as white nenuphar. It belongs to the Nymphaeaceae family. Water lilies live in reservoirs such as green lakes and ponds. This bowl-shaped green has 16–20 petals and a large mass of yellow stamens in the center. White Water Lily has a special importance in Buddhism and Hinduism, because the flowers close at night and reopen in the morning. The leaves of this plant are approximately 8 inches wide. Moreover, it is a symbol of pleasure and peace.
4. Calla Lily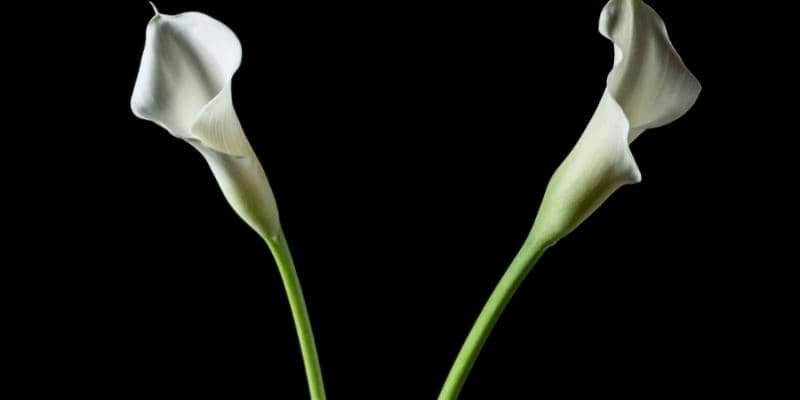 The flower has chasm-shaped brackets that encircle the yellow spikes of the flowers. These velvety brackets, also known as spathes, are more inclined to one side, making their overall appearance attractive. Calla Lily requires full sunlight or shady climates to grow quickly. It helps to improve the quality of air as it absorbs carbon dioxide from the surrounding area and releases oxygen into the atmosphere. It will take around 1 year to reach its mature phase.
5. Plumeria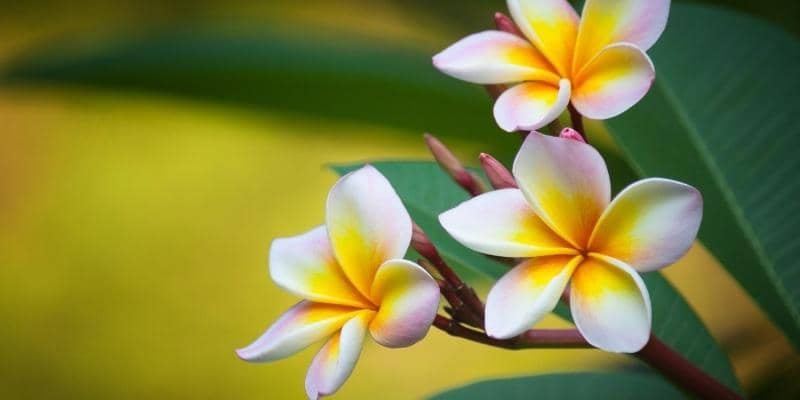 This white flowering plant is locally known as Champa. A Plumeria is a white, five-lobed flower with a yellow shade in the center. This white champa flower is very fragrant and flowers from early summer to late autumn. So, it needs full sun. Along with this, you need to change the water every 2 to 3 weeks. This white-flowering plant is a native of the tropical climate.
6. White Tulip
The tulip is popular for its variety of rainbow colors, but when it comes to the white tulip; its story is completely different. Symbolizing a new beginning, this cup-shaped flower is white with three petals and a sapling. The lifespan of this white flowering plant is a maximum of 10 years. It requires soil with a lot of organic matter.
7. White Rose
Demonstrating innocence and purity, the visible flower is covered with several wax petals. The flower has a pleasant aroma and grows on prickly twigs. It is one of the finest white-flowering plants in India. It is a symbol of love and purity.
8. White Orchid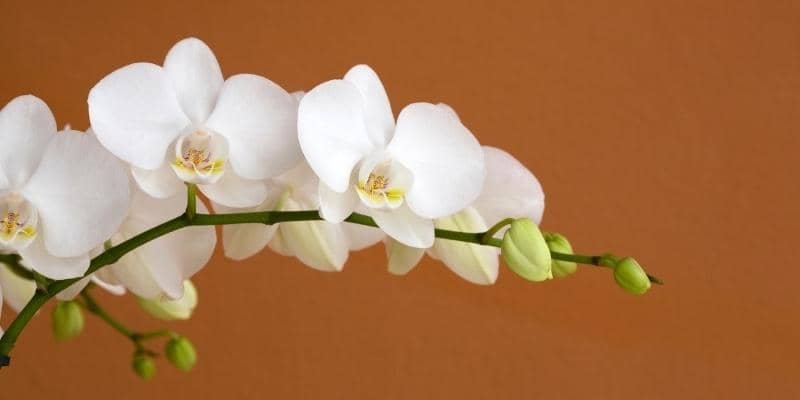 Demonstrating innocence and purity, the visible flower is covered with several wax petals. The flower has a pleasant aroma and grows on prickly twigs. It is one of the finest white-flowering plants in India. It is a symbol of love and purity.
9. White Carnation
The ruffled petals of the white avatar arranged in the shape of a pompom look stunning. His extravagant looks are an inspiration to many artists and poets. The maximum varieties give only one flower per stem.
10. White Gerbera Daisy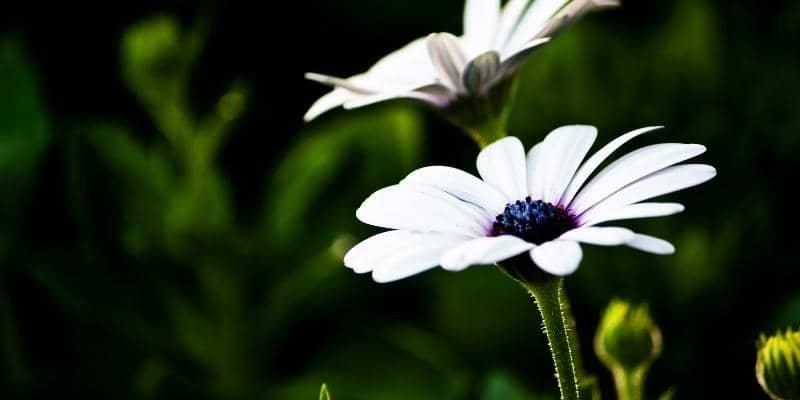 The Gerbera daisy has slender petals with yellow eyes. This white flower is used for decoration on special occasions. Moreover, you can show your love and care towards your near and dear ones by representing this white flowering plant, as it symbolizes love and purity.
11. White Dahlia Flower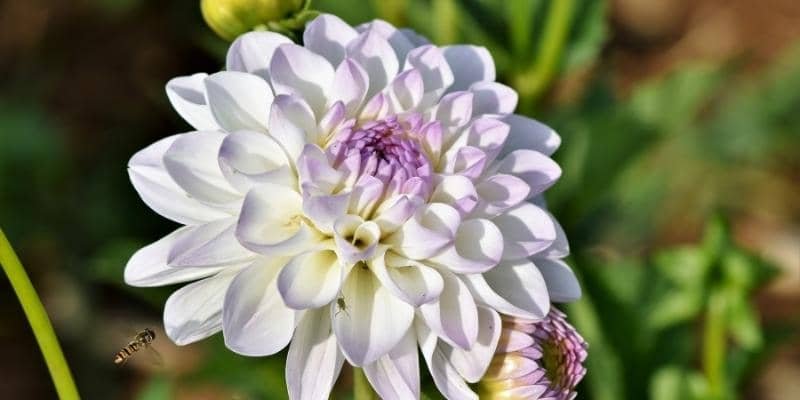 It requires full sunlight for approximately 6 to 8 hours per day. You can grow this plant in small containers or pots. It is considered poisonous for pets and animals, so keep it away from them. You need to give water once or twice a week, as it requires a lot of water. From April to May is the best time period for planting this white flowering plant.
12. White Clematis
Clematis receives much acclaim for its stunning appearance, but also for its vanilla scent. Pure white flowers with yellow stamens are produced in the hot months of April and May. These white flowering plants need full sunlight. The height of white clematis is 20 to 30 feet. Therefore, it needs 24 to 30 inches of space to grow. Neutral soil is suitable for growing this flowering plant. You need to change the water every week. Between spring and autumn is the most appropriate time period for growing this white flowering plant.
13. Tuberose
The pride of India, turf is a waxy white flower that blooms in clusters on top of stems. This night bloomer emits a sweet aroma like honey, which is useful in extracting essential oils. It needs full sun. Spring is the best time for planting tuberose. You need to check the upper surface of the soil. If you feel it is dry, then you should water the plant. At the beginning of the growing season, it requires a balanced fertilizer such as 10-10-10.
14. Candytuft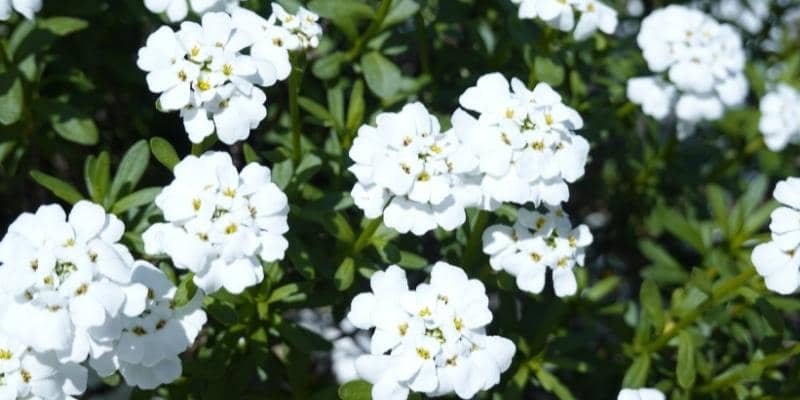 This is a low-growing plant that looks like a dense carpet in any garden. Flowers grow during winter and spring, surrounded by leaves that look like needles. It attracts bees and butterflies to the landscape. It is a non-toxic plant for everyone. Apart from this, it is also used in medical fields.
15. Cosmo
The whole flower itself is a wide range of flowers. A ray of the floret drapes into a spherical shape with petals, while in the center of the flower is a disc florate. Interestingly, early summer is the best flowering season for this flowering plant. Full sunlight is necessary for growing this plant. The height of this plant is at least 1 meter.
Every plant has its own importance, but flowering plants are more popular than other types of plants. All of the plants mentioned above are white flower plants. They enhance the beauty of your garden and your home as well. They symbolize peace, love, innocence, and so on.
I hope you liked reading the guide. If you think we have missed something or have any suggestions, please drop your valuable opinion in the comment section below.
If you are searching fresh and live houseplants online then checkout our extensive collection of amazing indoor and outdoor houseplants.