Summer is the best season for cultivating a variety of floral plants. Summer Flowering Plants in India are quite diverse. There are several beautiful Summer flowering plants in India. These plants calm the environment and provide natural beauty to it.
Summer is the finest time to enjoy flowers, which are Nature's gifts to us. The lovely scenery and aromatic flowers add a calming atmosphere to any setting. You may choose from a wide range of Indian summer flowers as they blossom. 
Flowers are not only a great way to add aesthetic value to garden but also functional value. The flowers listed below are great at attracting pollinators, including bees, wasps, hummingbirds, and butterflies. These pollinators will save you time and effort when you are growing vegetables and fruits.
Top 6 Amazing Summer Flowering Plants
Flowers attract beneficial insects to yard, nourishing soul and indirectly promoting the growth of other plants. They certainly have the capacity to put a charming smile on anyone's face simply by glancing at them. To make garden lush and colorful, here are the top 6 summer flowering plants from India that even grow with low maintenance.
1. Cosmos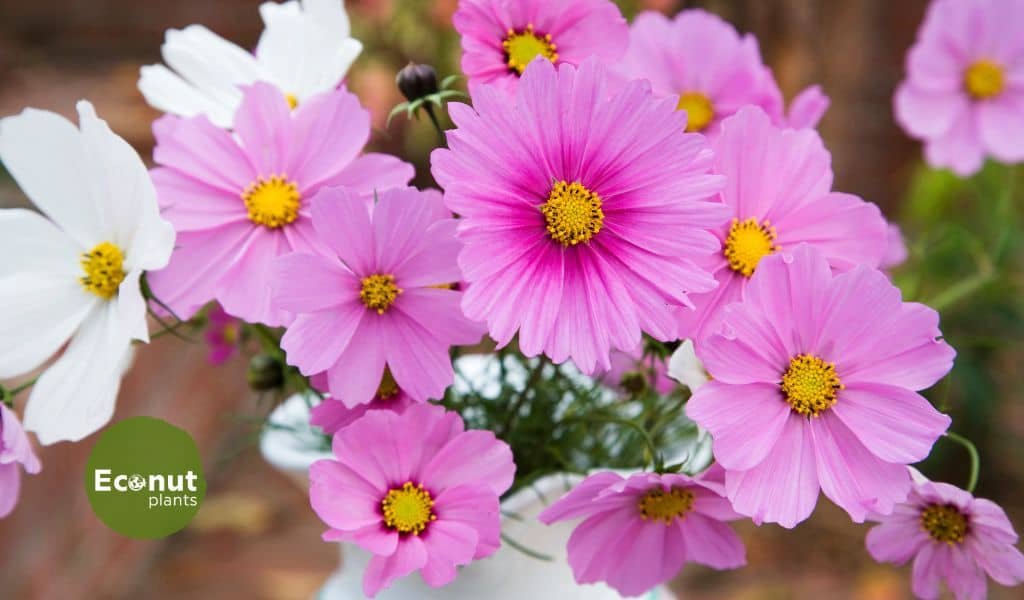 Cosmos Plant might be the greatest plants to cultivate in India throughout the summer. The Cosmos are India's summer annual flowers. As we know, India is a tropical country, and this plant thrives in the heat. It will not only enhance the appearance of yard but will also attract a variety of gorgeous butterflies, bees, and birds.
Sunny weather is the best period for cosmos flowering plants to grow. It is too costly as it is useful in all grades and is also known as a traditional plant. The height of this plant is approximately 6 feet. It is useful for decoration and also attracts hummingbirds and butterflies for pollination.
Cosmos grow well in beds and produce excellent cut flowers. When the plants are established, they can withstand drought, poor soil conditions, and general neglect. This is a plant that requires very little care. While certain pests eat on cosmos, such as aphids, flea beetles, and trips, they are easily controlled with a powerful spray of water or insecticidal soap.
Plant overview
Common Name: Cosmos, Mexican aster, cut-leaf cosmos
Scientific name: Cosmos sulphureus, Cosmos bipinnatus
Family: Asteraceae
Plant Type: Annual
Mature Size: 1-6 ft. tall, 1-3 ft. wide
Sun exposure: full
Soil Type: Well-draining soil
Soil pH: 6.0–6.8 (acidic)
Bloom Time: Summer through fall
Flower Color: Golden yellow, white, pink, magenta, orange, yellow, red, chocolate
Hardiness Zones: 2–11
Native Area: northern South America, Central America, and southern North America
2. Marigold
Marigold is one of the oldest flowering plants in India. It is used for decorations and other purposes as well, such as beauty creams and perfumes. It is also used in medical fields to get relief from dangerous diseases such as skin ailments and certain kinds of cancer. There are almost 56 species of marigold flower available in India.
African marigold, which is taller and more erect than the shorter French marigold, can grow to a magnificent height of three to four feet. African marigold is a member of the aster family that lasts only one season, with varieties that produce large round blooms in yellow, orange and creamy white on green stems and fern-like leaves.
Sow seeds or seedlings in spring after the danger of frost has passed to enjoy abundant flowering in just two months. Be warned that African marigold blooms and sap are somewhat toxic to humans.
Plant overview
Common Name: African marigold, Mexican marigold, Aztec marigold, American marigold
Scientific Name: Tagetes erecta
Family: Asteraceae
Plant Type: Annual
Mature Size: 1–4 ft. tall, 1–2 ft. wide
Sun exposure: full
Soil Type: Sandy, loamy, well-drained
Soil pH: acidic, neutral
Bloom Time: Summer, fall
Flower color: orange, yellow, white
Hardiness Zones: 2–11
Native Area: North America, Central America
Toxicity: toxic to humans
3. Sunflower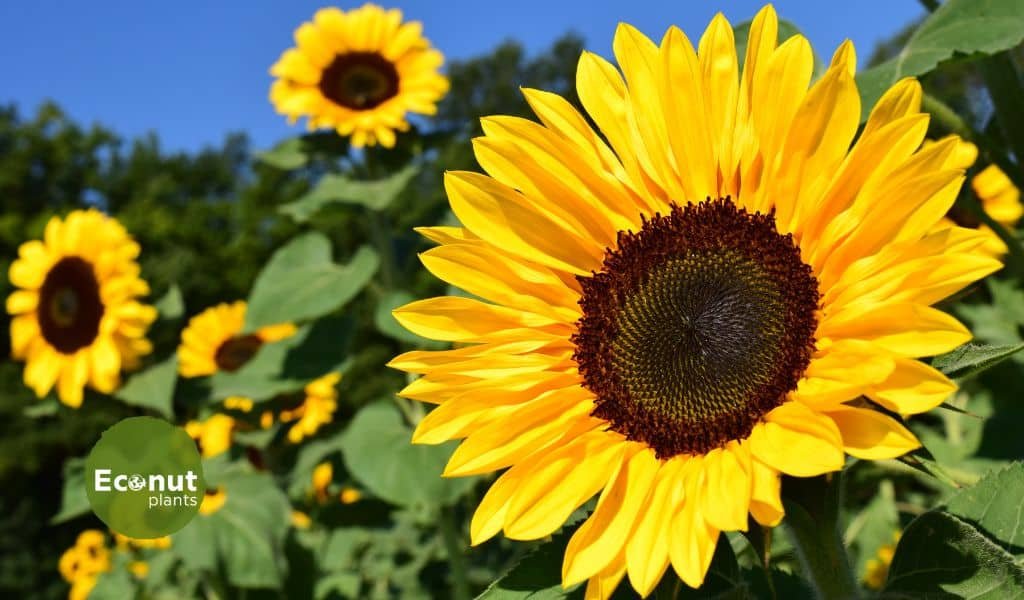 Sunflower is also known as the "happy" flower. It helps to make perfect gifts for someone because it has great color, which shows our gratitude and love for others. In certain societies, it is also used for religious purposes. It looks like there is too much glow in the sunny atmosphere.
There are five major states in India for planting sunflower plants, namely, Andhra Pradesh, Maharashtra, Bihar, Orissa, and Tamil Nadu. Besides beautiful nature, they have many positive effects in various fields, such as decoration, medicinal, traditional, religious, and so on. Therefore, it is necessary to grow these kinds of amazing plants in the summer as they have many benefits.
The blooms have a large center disk surrounded by short, yellow petals and are 3 to 6 inches across on average. Sunflowers have a hairy, robust, erect stem that can grow to be many feet tall. These stems can be solitary or branching, with many flowers.
Plant overview
Common Names: Sunflower, common sunflower
Scientific Name: Helianthus annuus
Family: Asteraceae
Plant Type: Annual
Mature Size: 3–10 ft. tall, 1.5–3 ft. wide
Sun exposure: full
Soil Type: Well-drained
Bloom Time: Summer, fall
Soil pH: acidic, neutral, alkaline
Flower Color: Yellow, red, mahogany, bicolors
Hardiness Zones: 2–11
Native Area: North America
4. Zinnia
Zinnia Plants are available in a number of plant sizes. Some grow slowly. Plants that are one foot tall and have a mounding habit others are three-foot-tall plants with massive blossoms. Mounding variants feature smaller blooms and generate plants that are more beautiful in appearance. Zinnias do not need to be deadheaded, but if you do, plants will have a longer bloom time.
The leaves of Zinnia are lance-shaped and harsh, whereas other kinds have broader, less scratchy leaves. Flowers are spherical and can be daisy-like, double, cactus-flowered, or dahlia-like. They bloom all summer and even into the fall, lasting two to five months in the garden. Zinnias thrive during the hot summer months, and the hottest spring and fall months. 
Plant overview
Common Name: Zinnia
Botanical Name: Zinnia elegans
Plant Type: Annual
Mature Size: 1-4 ft. tall, 6-18 in. wide
Sun exposure: full
Soil Type: Well-draining
Bloom Time: Spring, summer, fall
Soil pH: neutral
Flower Color: Pink, purple, yellow, orange, white, red, green
Hardiness Zones: 3–10
Native Area: South America, North America
5. Blanket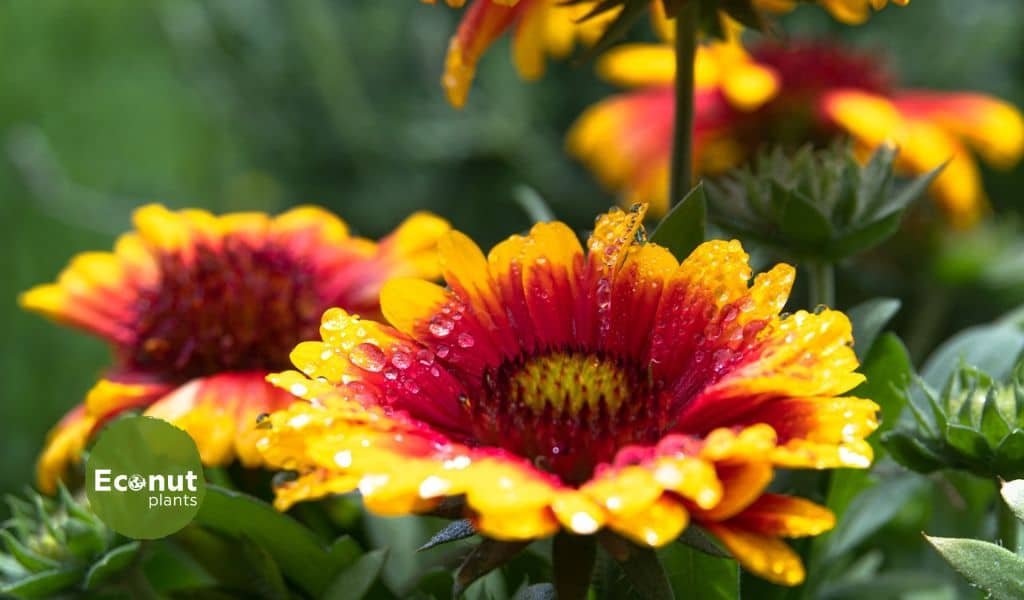 The mature size of blanket flower plants is 24–36 inches tall and 12–24 inches wide. Dry weather is the most suitable for growing these plants. It has beautiful red and yellow flowers. These plants are easy to grow in a home garden. Blanket plants live for 3 to 4 years; after that, they get older. It attracts different kinds of beneficial insects, such as bees and butterflies. 
Gaillardia pulchella is a shrub that blooms from July to August and has gorgeous, fragrant flowers. Native to the arid Southwest, the plant's vivid yellow blossoms are also known as Indian blanket. They are occasionally used as cut flowers.
It grows on clay loam, rocky soils, or gravelly loam in its natural habitat. Gaillardia will thrive all year in most regions if given adequate water and fertilizer, although it prefers full sun for the best development. It loves damp soil but may also endure dry circumstances.
Plant overview
Common Names: Gallardia, blanket flower
Scientific name: Gaillardia pulchella
Family: Asteraceae
Plant Type: Herbaceous perennial
Mature Size: 24–36 in. tall; 12- to 24-in. spread
Sun Exposure: Full sun
Soil Type: Poor, well-draining soil
Bloom Time: Repeat bloomer, summer through fall
Soil pH: 6.1 to 6.5
Flower Color: Various shades of red, yellow, orange, or peach
Hardiness Zones: 3-10; varies by variety
Native Area: Cultivated hybrid; parents are native North American wildflowers
Toxicity: slightly toxic to humans
6. Balsam
Balsam is one of India's greatest summer flowers and is also accessible throughout the year. Their flowers are available in a variety of colors including violet purple, white, rose pink and red. Depending on the climate, the plant grows into a shrub-like shrub with flowers ranging in size from 20 to 60 cm.
This plant is found in different regions of India, such as Madhya Pradesh, Maharashtra, Manipur, and Meghalaya. The juice of balsam plant flowers is used in the medical field to get relief from dangerous diseases such as certain kinds of cancer and skin ailments.
Garden balsam is an annual flower with tall stems lined with light-green, lance-shaped, serrated leaves. Balsam has scarce, erect stems that carry bigger double blooms than the flat flowers found in ordinary or New Guinea impatiens. The cup-shaped blooms are 1 to 3 inches wide. They begin flowering in late spring and continue until frost in the fall. balsam blooms can be plain or bicolor, and they can also be marked.
Plant overview
Common Name: Garden balsam rose balsam, touch-me-not
Scientific Name: Impatiens balsamina
Family: Balsaminaceae
Plant Type: Annual
Mature Size: 6–30 in. tall, 6–12 in. wide
Sun exposure: full, partial
Soil Type: Loamy, moist, well-drained
Bloom Time: Spring, summer, fall
Soil pH: acidic, neutral
Flower Color: Purple, pink, red, white, bicolors
Hardiness Zones: 2–11
Also Read Related:
If you are searching fresh and live houseplants online then checkout our extensive collection of amazing indoor and outdoor houseplants.
I hope you enjoyed reading India's Top Amazing Summer Flowering Plants Planting Guide. If you think we have forgotten something or have a suggestion, please leave it in the comment section below.