The Ginger Plant has been used for medicinal purposes since time immemorial. This plant has various applications in the Ayurvedic treatment methods utilized in India. The ginger plant is definitely a gift from nature to humans.
Ginger is a monocotyledonous rhizome in the Zingiberaceae family. The name 'ginger' derives from the French gingembre and, eventually, the Tamil inji ver. This plant is mostly used medicinally. Ginger is also used as a spice to enhance the flavor of meals.
Some ginger plants produce many edible parts. Not just rhizomes, stems, leaves, and flowers are edible. One of the edible ginger species whose rhizome is edible is common ginger.
Types of Ginger Plants
There are other varieties of ginger that are used as a spice. Numerous varieties of ginger are prized for both their aesthetic qualities and therapeutic benefits.
1. Common Ginger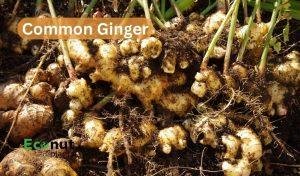 Botanical Name: Zingiber Officinal
Common Ginger is a popular spice in both cuisine and medicinal. It has powerful therapeutic qualities. This grows best when it is directly exposed to sunshine. It is simple to plant and develop on a huge scale for public use. It is used in a variety of ways, including fresh ginger, powdered ginger and dry ginger root.
Ginger has several health benefits. Fresh ginger rhizome paste or grated improves cooking and marinating. Ginger extracts are also used in medicine, packaged foods, and hot drinks. Ginger powder is essential in baking, cooking, and the preparation of cold beverages such as ginger ale.
2. Butterfly ginger
Botanical Name: Hedychium coronarium
Butterfly bears fragrant blooms in the shape of butterfly wings. Its spicy roots are used to flavor soups, and the essential oil can help with fevers. The butterfly lily is known as the Ginger Lily, Garland Lily, White Ginger Plant, and hedychium. The butterfly plant got its name because its blossoms resemble butterfly wings. This plant may grow from half a meter to six meters tall.
Flowers come in a variety of colors, including orange, white, red, and yellow. The blooms are extremely huge, and even the leaves are scented. Hydechiums are mostly used in landscaping. Because the rhizomes of this plant develop swiftly, it is necessary to transplant the Hydechiums on a regular basis.
3. White ginger
Botanical name: Hedychium coronarium
This Indian variety of flowering ginger, the White Ginger Lily, has beautiful white flowers that look like jasmine. White ginger lily is also grown in Hawaii for its ornamental value and in China for its medicinal properties. An aphrodisiac that can be used against indigestion, constipation, anorexia, and stomach pain
This perennial flowering plant prefers to grow in damp conditions such as rain forests and near streams. The rhizomes spread quickly and are considered invasive in some countries. These have a strong fragrance and a butterfly shape. Another feature of the White Ginger Lily is its long, elongated, dark-green oval leaves. These leaves can measure about a foot long and four feet wide.
4. Beehive Ginger
Botanical Name: Zingiber spectabile
Beehive ginger gets its name from the shape of the blossom heads, which resemble a beehive. Other names for this plant include "Ginger wort" and "Malaysian Ginger." This edible ginger is not commonly utilized in the culinary world. It is more commonly used in medical fields to treat health conditions.
The leaves are ground into a paste and applied to the skin to cure pain, headaches, and burns. Rhizomes can be utilized in the same way that ginger is, but they are not as powerful. Flower heads can grow up to 12 inches long. The bracts on the flower head look like a beehive when mounted on a spike and can be red, orange, white, or yellow.
5. Torch Ginger
Botanical Name: Etlingera elatior
Torch ginger is also known as Combrang, Bunga Kantan, Philippine Wax flower, Red Ginger Lily, and Rose de Porcelain. This lovely tropical plant has huge, vivid blossoms in a variety of vibrant colors. The entire plant is edible and is utilized in many different cuisines throughout the world.
Torch ginger is another ginger variety produced in the Eastern World for decorative purposes, medicinal uses, and culinary flavor. More specifically, in Indonesia, the roots, stems, leaves, and even blossoms of this plant are frequently used not only to improve the flavor of a wide range of foods but also as food preservatives and to cure superficial wounds.
6. Myoga Ginger
Botanical Name: Zingiber mioga
The blossoms and shoots of Myoga Ginger are used in cooking. They have a light, refreshing flavor and a powerful, pungent scent. Japanese ginger, commonly known as Myoga ginger or just Myoga, is a perennial, herbaceous plant native to Japan and the Korean peninsula.
Myoga may be grown in somewhat shaded beds or in pots inside or outdoors. It was not formerly prevalent in the United States, but it is now more easily found in nurseries. They will grow to around 18 inches tall, but if you fertilize them, they may grow twice as tall. To consume, the buds and young shoots are picked.
7. Mango Ginger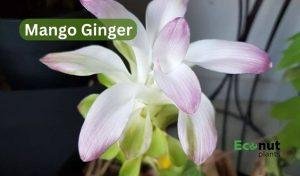 Botanical Name: Curcuma amada
The rhizomes taste similar to ginger but lack the pungency, instead having a fresh mango flavor. They are used to make pickles in the south and chutneys in the north. This ginger family member has a milder ginger flavor. It tastes like turmeric and mango. This earthy and sweet ginger rhizome is popular in South and Southeast Asian cuisine.
This ginger has been used as a laxative in Ayurvedic medicine for generations. It is also used to treat coughs, colds, and even bronchitis when taken orally. Pickling and fermenting employ whole ginger rhizomes. The blossoms are brilliant pink at the flower head's summit. They look to have a pale golden color in the lowest sections.
8. Yellow ginger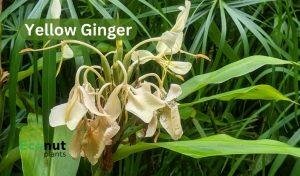 Botanical Name: Hedychium flavescens
Yellow ginger root is the rhizome stem-root of the Zingiber officinal plant. Ginger is a perennial plant of the Zingiberaceae family, which has several species. Ginger root is a fibrous rhizome that clusters together and sprouts in different directions. The term "ginger" is derived from the Sanskrit word for "horn-root."
Common ginger rhizomes grow to be 2.5 – 15 cm long on average. The ginger plant also develops leafy stems that can grow to be 3 to 4 feet tall. The ginger root may be luscious and meaty depending on its development. Yellow ginger root that is older is drier and stringier. Fresh ginger root has a powerful scent and a spicy, pungent flavor.
9. Crepe Ginger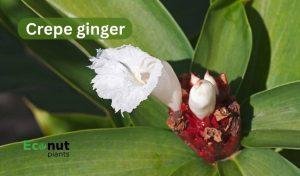 Botanical Name: Cheilocostus speciosus
Ginger crepe Malay ginger and cane reed are two more names for this plant. It's famous for its dazzling white blossoms that look like crepe paper. Flowers and buds are edible and have a strong flavor. Malay ginger is most stunning ornamental ginger plants. This crepe ginger is known as blooming ginger because of its thin, wavy blossoms.
Malay ginger is native to Malaysia and thrives in warm, humid areas. This ginger species thrives and blossoms nicely in Hawaii as well. This ginger plant's stems may grow up to 10 feet tall. When the plant blooms, reddish-purple bracts with a conical shape arise. This bunch of bracts subsequently gives birth to beautiful little white blooms with a subtle yellow center.
10. Turmeric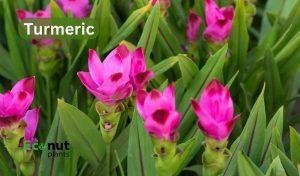 Botanical Name: Curcuma longa
The essential spice in Indian curries is a super food as well as a food coloring. Its roots have a peppery taste with a subtle lemon undertone. Turmeric is one of the most commonly used Indian spices. This yellowish-orange rhizome belongs to the ginger family.
Because of the presence of colorful chemical called curcumas, the orange ginger rhizome produces a bright yellow powder. The turmeric rhizome is typically used in powder form to provide a delicious but somewhat bitter flavor to meals. Turmeric powder may also be used to color meals. Turmeric has cultural significance and is used in a variety of Indian religious rituals.
11. Red Ginger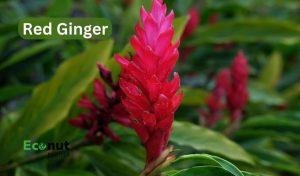 Botanical Name: Alpinia purpurata
Red ginger is also known as ostrich plumes, pink cone ginger, jungle king, teuila flower, and Tahitian ginger. It has a strong spicy fragrance but is most recognized for its vivid red or pink bracts. The stems of the red ginger plant may reach a height of 6 feet.
Red ginger thrives outside in warm climates such as the Caribbean, South Florida, and Pacific Ocean islands. Ginger grows well in partial sun and in damp, humid environments. Its leaves are substantially longer and broader than those of other ginger plant species. This ginger species may be grown inside or in greenhouses for its blossoms. In floral arrangements, the enormous, flashy "flowers" look magnificent.
Also Read: Ginger Plant – The Most Helthiest Spice And Medicine
I hope you enjoyed reading the types of ginger planting guide. If you think we have forgotten something or have a suggestion, please leave it in the comment section below.